Conference Dining Dublin
Bar & Restaurant in Northwood Dublin
Touzai Restaurant
The Crowne Plaza Dublin Airport Touzai Restaurant offers an a la carte and buffet breakfast and an a la carte Dinner menu. The 200 seater newly revamped restaurant is the perfect venue for a conference lunch or group dining.
The stylish surroundings and personable service in Touzai make for a truly relaxed dining experience. The carefully crafted dishes are seasonally changing, created using locally sourced, fresh ingredients and catering for special diets including vegan, coeliac and lactose free.
Cinnabar Social
The Cinnabar Social bar at the Crowne Plaza Dublin Airport is an ideal venue to unwind and network after a long day of meetings. Sleek and contemporary in design with views of the lake and surrounding Santry Demesne park, Cinnabar Social offers a cool and relaxed atmosphere. An extensive range of wines, spirits, Irish and International beer and an inspired cocktail menu are on offer for guests to enjoy, in addition to the refined and appealing bar food menu.
Inca Coffee Lounge
Located in the hotel lobby, Inca offers a range of teas, coffee and light refreshments in a relaxed setting. The skilled barista team combine a passion in coffee culture with continuous training to create a range of delicious café beverages, while the hotel's pastry team ensure there are always fresh scones, cakes, viennoiserie and pastries on offer throughout the day.
Location
The Crowne Plaza Dublin Airport is conveniently located in Northwood, Santry, just off the M1 and M50 motorways, just 7 minutes from Dublin Airport and 15 minutes from Dublin City Centre.
The location overlooks the picturesque Santry Demesne and truly offers the best of both worlds – a tranquil venue that is centrally located.
The venue offers onsite parking for over 300 cars in a multi storey carpark, in addition to public transport with access from the number 16 bus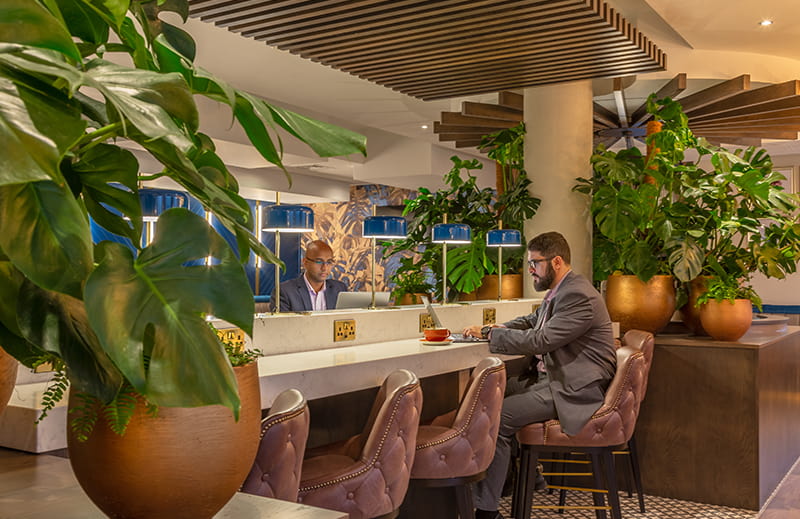 ---
Contact Details
Sales Director
Northwood, Northwood Park,
Santry, Dublin 9
Ireland