Crowne Plaza Dublin Northwood Conference Centre

The 4-star Crowne Plaza Dublin Airport boasts a unique setting in Northwood, Santry with 85 acres of mature parkland on its doorstep. Its location close to the M50 motorway, only 2km from Dublin airport and 5km from Dublin City Centre, making it one of the most convenient meeting spaces Dublin 9 has to offer, with the benefits of a tranquil setting.
Conference Facilities
The spacious Redwood Suite is 600 square metres and can cater for up to 750 delegates. The incredibly versatile meeting room can be divided into 2 or 3 separate sections using sky-fold partitions that drop from the ceiling in under 90 seconds. The Redwood Suite is one of North Dublin's largest conference venues and can accommodate from the traditional to the virtual and hybrid events.
Meeting Room Hire Dublin
An additional 23 purpose built meeting rooms are available, including 12 ground floor meeting rooms and 11 first floor meeting rooms. The meeting spaces are all well equipped featuring free superfast WiFi.
Meeting Excellence
Our professional and experienced team can assist with all of the details from inspiring menus and refreshments to customised room layouts and configurations, with someone always available on the day in case you need anything and ensure the event runs smoothly.
Residential Conference Facilities
For residential conferences the property has 423 bedrooms in total, including 209 bedrooms in the Crowne Plaza and an additional 214 bedrooms in the adjacent Holiday Inn Express, making it ideal to accommodation for large groups in Dublin.

There are also over 300 car parking spaces onsite in our multi-storey carpark for those travelling by car, or guests may avail of the complimentary Airport shuttle bus.
Sustainable Meeting Venue
The Crowne Plaza hotel Dublin Airport operates Ireland's very first fully electric bus, and both the hotel and conference centre have a dedicated Green Team to ensure they are one of the top sustainable venues in Dublin.

So whether you are searching for a large or a small meeting room for rent in Dublin, contact our Sales Director to discuss the possibilities.

FAQ Module:

Q. How many meeting rooms are there?
A. There are 23 meeting rooms and an additional large conference space, the Redwood Suite.

Q. Are there wheelchair accessible meeting rooms for hire?
A. We have 11 ground floor meeting rooms in addition to elevator facilities. Please contact us to discuss your needs.

Q. Are there any air conditioned meeting spaces?
A. All the meeting rooms are individually air conditioned for your comfort.

Q. Do the conference facilities offer natural daylight?
A. We offer a wide selection of meeting rooms with natural daylight.

Q. Is there onsite car parking?
A. We offer an onsite multi storey carpark with over 300 spaces.

Q. What conference services do you offer?
A. Our modern meeting rooms come complete with free high speed WiFi, projector and screen, notepads, pens and water, air conditioning and more.

Q. What is the cost to rent a meeting room for a day?
A. Our meeting and conference facilities provide service excellence at competitive prices, contact us today for a quotation.

Q. Is there a small meeting room for rent?
A. We have small meeting rooms suitable for 1 up to 20 people, with larger rooms accommodating up to 750 people.

Q. Is the Crowne Plaza Dublin Airport a green venue?
A. We are certified members of Sustainable Travel Ireland and have undertaken a number of green initiatives to lower our carbon footprint.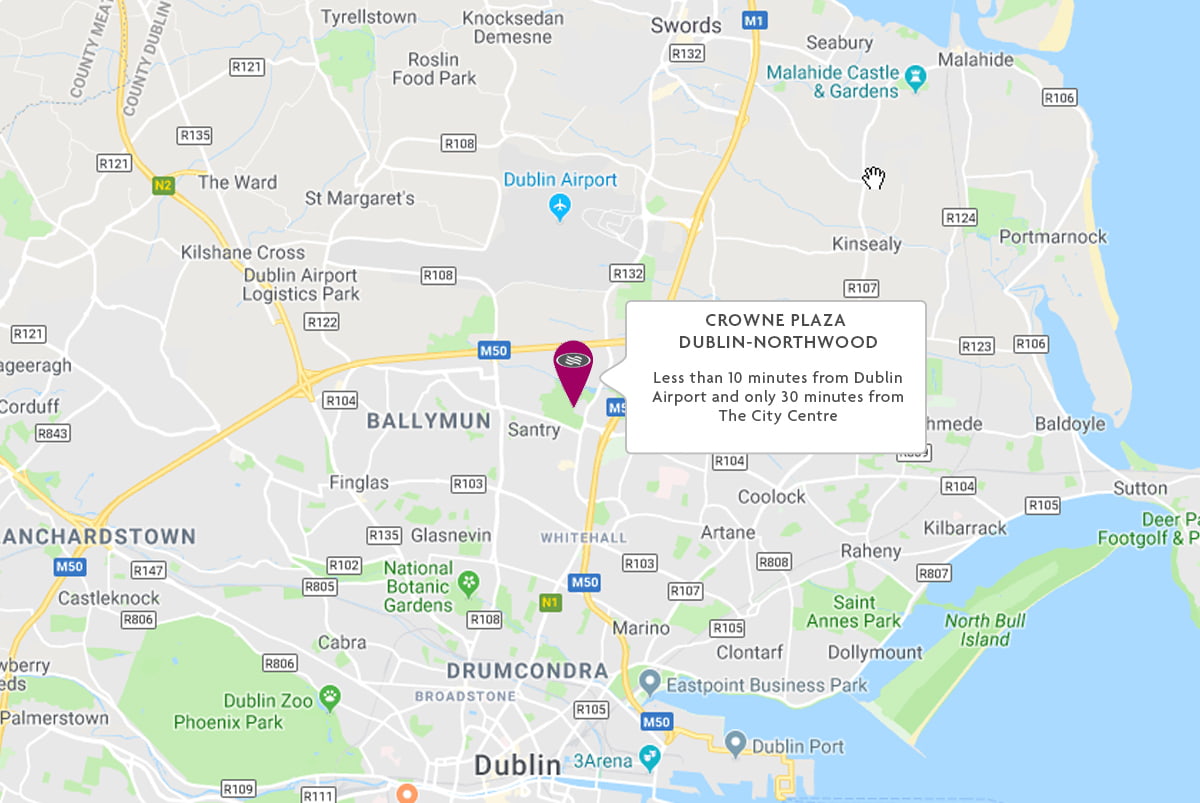 ---
Contact Details
Sales Director
Northwood, Northwood Park,
Santry, Dublin 9
Ireland