Banqueting & Events
For Gala dinners and corporate parties, look no further than Clontarf Castle Hotel.
Our team can assist with organising all events including a Cocktail Party, Gala Banquet, Business Dinner, Product Launch, International Conference, or that Special Event you have always dreamed of. Clontarf Castle offers three bars and restaurants, which will cater to everyone's taste. The Knight's Bar is firmly rooted in the traditions of the castle offering guests modern cuisine in time-honoured surroundings. The Indigo Lounge is an uber-chic bar that rivals the city's top night spots, lavishly decorated with rich colour, oversized sofas and chandeliers, this opulent lounge radiates elegance. Fahrenheit Restaurant is the pinnacle of the hotel's culinary experience, offering specialized grilled steak and seafood.
Should delegates wish to spend the night, our 111 rooms and suites range from the luxurious to the truly extravagant, with designs that mesmerise the senses, and all the in-room touches you need to ensure the perfect night's rest. From the fashionable style and comfort in our deluxe bedrooms to the definitive opulence of our individually designed executive suites with views over Dublin city.
Conveniently located merely 20 Minutes from Dublin airport and less than 5 kilometres from Dublin City Centre, Clontarf Castle is the perfect location for all of your conference and banqueting needs.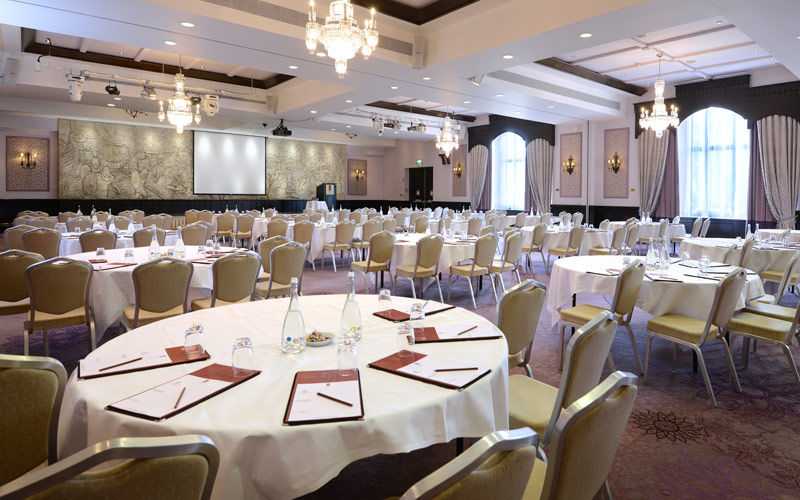 ---
Contact Details
Events Co-Coordinator T. +353 (0)1 833 23 21
Email: [email protected]. Address: Clontarf Castle Hotel , Castle Avenue, Clontarf, Dublin 3, Ireland